The student government of the Catholic University of America voted in favor of asking school administration to block pornographic websites on campus internet.
Last Monday, the Student Government Association of the Catholic University of America in Washington, D.C. voted on the "Resolution for a Pornography Free Campus Network." The resolution "requests that the University take an outward stance on the use of pornography by prohibiting access to the top 200 pornography sites through the campus network."
Passed by a vote of 13 to 12 after a tie-breaking vote by the Student Government Vice President, the non-binding resolution now goes to the school administration to decide whether to put the ban into effect.
The administration is taking the ban under strong consideration. Spokesperson for the Catholic University of America Karna Loyoza said "it is difficult to ignore the firm stance against pornography made by our student body."
"The student resolution made a convincing argument that banning porn on the University network sends the right message to the student body. No decision has been made on the ban, but the University is grateful to the SGA for bringing to our attention their desire that we ban pornography on the University network."
Loyoza said attempts to ban porn in the past were prevented because the technology to do so would be cost-prohibitive and ineffective, but newer solutions make it feasible for the university.
C. C. Pecknold, a professor sponsoring the resolution, said after it passed that "it blocks [the] majority of heavily marketed sites, and is free and easy to block. The rest need ISP block and costs."
Read below the full text of the resolution: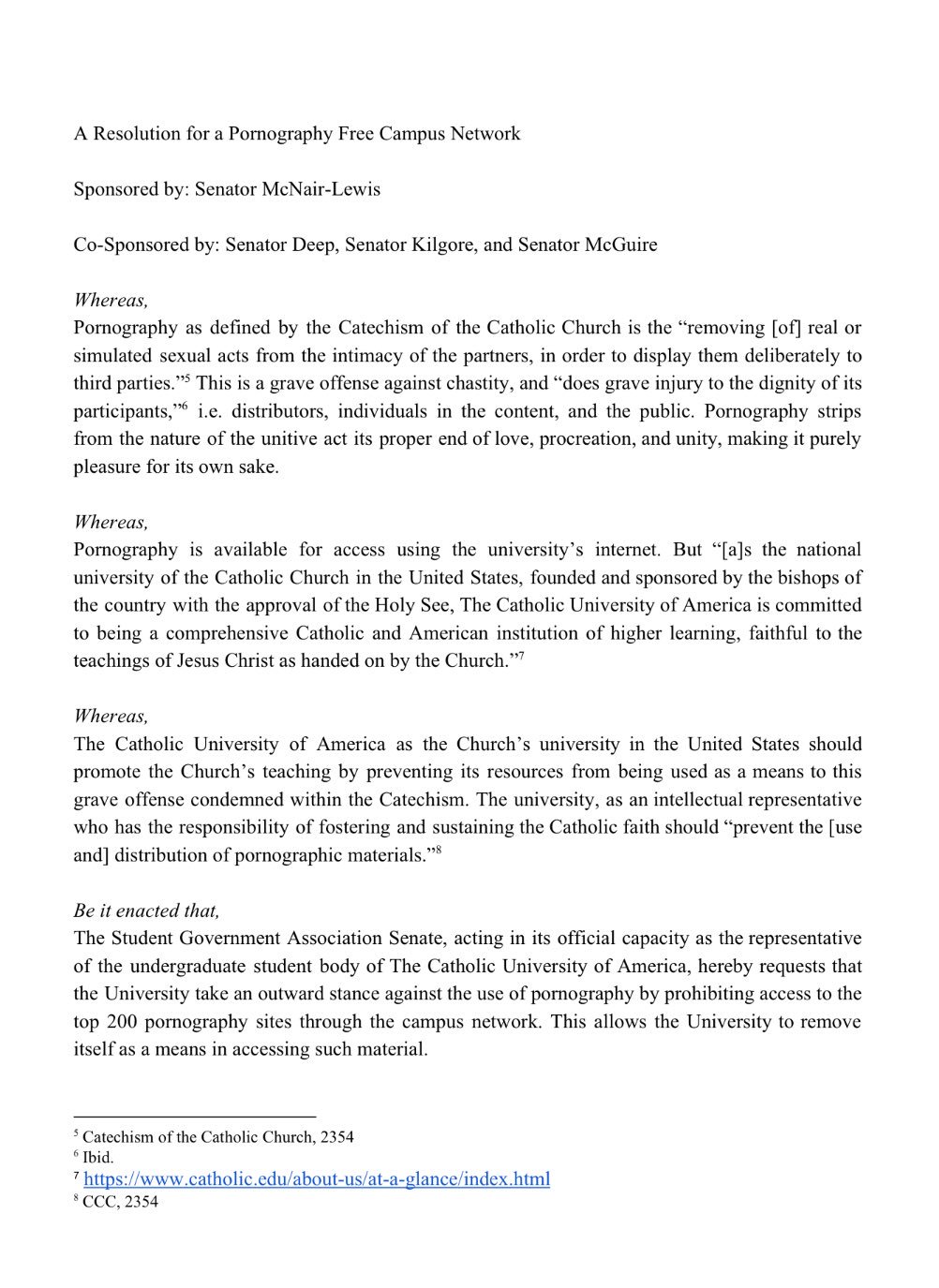 Pornography consists in removing real or simulated sexual acts from the intimacy of the partners, in order to display them deliberately to third parties. It offends against chastity because it perverts the conjugal act, the intimate giving of spouses to each other. It does grave injury to the dignity of its participants (actors, vendors, the public), since each one becomes an object of base pleasure and illicit profit for others. It immerses all who are involved in the illusion of a fantasy world. It is a grave offense. Civil authorities should prevent the production and distribution of pornographic materials. – Catechism of the Catholic Church 2354
Love uCATHOLIC?
Get our inspiring content delivered to your inbox every morning - FREE!
Comments